Perfect Smile with Porcelain Veneers & Lumineers
Have you ever wished for a brighter, straighter, more attractive smile? Do you want to achieve results quickly and without metal braces? Also called instant orthodontics, porcelain veneers are a revolutionary cosmetic treatment that solve a wide variety of issues in just two visits to our office. With porcelain veneers, Dr. Kibbey can correct chips, breaks, stains, and slight misalignments while maintaining your smile's natural-looking appeal.
What are porcelain veneers?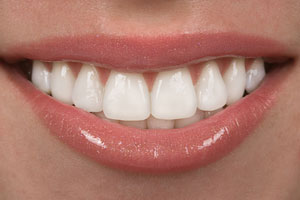 Porcelain veneers are highly esthetic dental restorations used to improve the appearance of front teeth. They're handcrafted and custom designed according to your and Dr. Kibbey's instructions. The fine porcelain used to create veneers is known for its strength and enamel-like properties. When bonded to the teeth, the ultra-thin veneers look natural, resist stains, and withstand daily wear-and-tear. Considered a conservative cosmetic treatment, porcelain veneers can last patients for 10 years or longer.
What's the difference between porcelain veneers and Lumineers?
You may have heard of Lumineers on television or from a friend. They're a popular brand of minimal-prep veneers made from specially formulated, ultra-thin porcelain. With Lumineers, Dr. Kibbey removes little to no tooth structure before bonding the Lumineers to your teeth. Patients who may wish to return to their original smiles in the future often opt for Lumineers brand veneers. Dr. Kibbey will explain your options in detail and recommend the appropriate solution for your smile.
Welcoming New Patients
Dr. Kibbey's general dentistry, cosmetic dentistry, and implant dentistry practice is now welcoming new patients. Simply call our Findlay, OH dental office and request an appointment. Located in Findlay, Ohio, we serve patients from the surrounding areas of Bowling Green, Fostoria, Bluffton, and Lima.