Root Canal Therapy for Findlay Residents
Root canals are probably the most dreaded and most misunderstood procedure in dentistry. Patients often associate the treatment with pain, when in fact, the pain is caused by an inflammation within the tooth. A root canal procedure removes the bacteria that has built up inside the canals and seals the tooth from further infection. Dr. Kibbey uses advanced technology, including computer-generated digital radiography, to perform root canals comfortably and efficiently.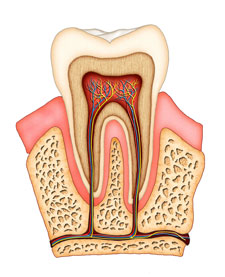 Why do I need a root canal?
Typically, patients need a root canal when trauma or a deep decayed area that has not been treated penetrates the interior layers of the tooth. Your large crack or break can cause the tooth to fill with bacteria, causing breakdown of the nerve. A root canal is necessary to prevent the infection from spreading and to save the tooth from extraction.
Why do I need a crown?
When the inside of a tooth sustains damage, it weakens the tooth and renders it incapable of withstanding normal biting pressures. Dr. Kibbey places a custom crown over the weakened tooth to return strength and ensure the long-term success of the procedure.
Welcoming New Patients
Dr. Kibbey's general dentistry, cosmetic dentistry, and implant dentistry practice is now welcoming new patients. Simply call our Findlay, OH dental office and request an appointment. Located in Findlay, Ohio, we serve patients from the surrounding areas of Bowling Green, Fostoria, Bluffton, and Lima.