Straighten Your Smile with Orthodontics & Invisible Braces
Only a small fraction of the population is born with perfectly straight teeth. The rest of us turn to orthodontics to move teeth into their optimal alignment. Why are straight teeth so important? In addition to contributing to a more attractive smile, straight teeth promote a comfortable bite and encourage better oral hygiene. Dr. Kibbey offers traditional orthodontics (braces), as well Simpli5 invisible aligners – a popular, metal-free alternative for our adult patients.
Traditional Orthodontics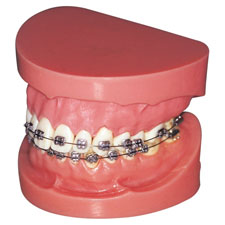 Children, teens, and adults can benefit from orthodontic treatment with braces. The treatment typically involves metal or clear brackets and wires that apply gentle forces to gradually reposition the teeth. Treatment times vary greatly from patient to patient, but the desired result can generally be achieved in 12-36 months. Dr. Kibbey has belonged to several reputable orthodontic societies and has over 20 years of experience straightening teeth with braces.
Simpli5 Invisible Braces
Adults who don't like the appearance of metal braces but who still want straighter teeth are often good candidates for Simpli5 invisible braces. These clear aligners are comparable to the popular Invisalign system, and they offer the same great benefits. With Simpli5, patients can remove the aligners at will—to eat, brush, floss, and for special occasions. Made from clear acrylic, the aligners form to the contours of your teeth and are virtually undetectable.
Welcoming New Patients
Dr. Kibbey's general dentistry, cosmetic dentistry, and implant dentistry practice is now welcoming new patients. Simply call our Findlay, OH dental office and request an appointment. Located in Findlay, Ohio, we serve patients from the surrounding areas of Bowling Green, Fostoria, Bluffton, and Lima.